Duplicate Publishing Fair returns in 2023 and will be held at Eastside Projects on Friday 5th (4-8pm) and Saturday 6th (12-5pm) of May. The fair is free to attend and open to all.

Exhibitors 2023: School of the Damned Press, OOMK, Rabbits Road Press, Bunny Bissoux, Rosalie Schweiker, Pittville Press, The Portland Inn Project, Radical Art Collective Stoke, Ground Workshops, Back To Books, Fawn Press, Harun Morrison, L4 Photography, Book Works, Mikayla Shuker, Mikrayola, No Go Press, Georgie Mac, Bunny Propaganda, Purple Ladder Studios, Less Than 500 Press, Geen Jones, Staff Room Press, Here Is Jonny, Dislocatedzine, Aleesha Nandhra, Khidr Collective, Fathomsun Press, Lunchtime for the Wild Youth, Tom Gooch, Morrigan Ivy, Eric Monk-Steel, Bushra Saleem, Unknown Publishing Thing, COPY, Leah Hickey, Summer Book (George Manson & Luke Humphries), Triple One Five, Charlotte with Ink, James Unsworth, Aarushi Matiyani, 3:03 collective, Erika Price, Elliot Hanks, Commonplace Press, Mark Pawson / Disinfotainment, BCU Illustration


Communal Table: if you have one or two zines to sell, you are very welcome to bring them along to be sold on the communal table. Simply drop them off at the communal table at Eastside Projects at 3.30pm on Friday 5th May (maximum two titles per person and up to 5 copies of each zine). Please ensure all your zines have price tags/stickers on them. Collect any money and unsold zines on Saturday 6th May at 4.30pm. Any uncollected zines and money will be donated to Duplicate. The communal table is cash only.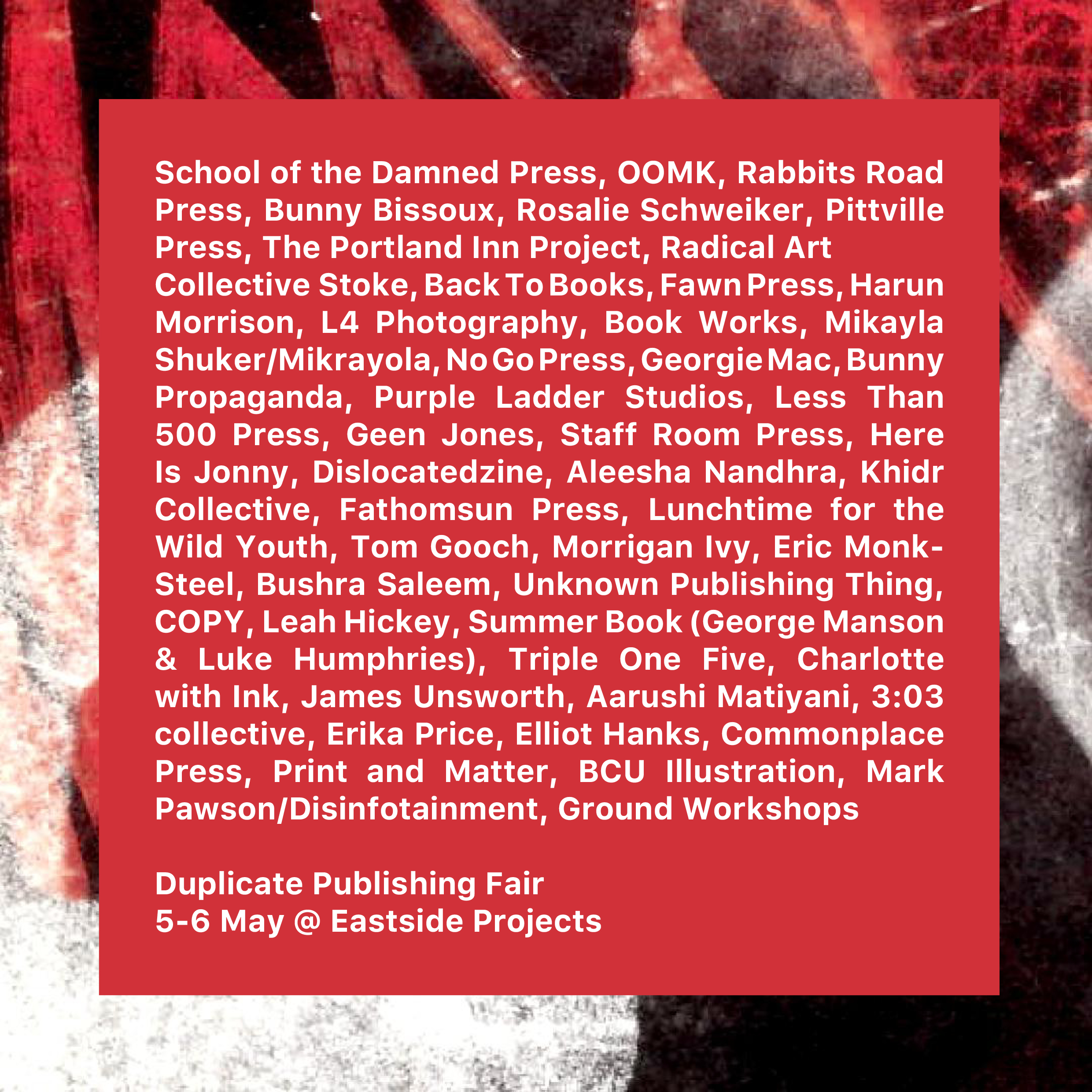 Exhibtion

We are very excited to be hosting a poster exhibition at Duplicate this year!
Print and Matter
will be exhibiting posters from Art for the Faith Hearted in Gallery 2 over the two-day fair.
Art for the Faith Hearted is an exhibition and publication documenting, exploring and showcasing work produced during Print and Matter, an experimental art programme specially designed for Muslims in Birmingham wanting to explore connections between religious practice and art making. The publication will also be available to purchase at the fair.
Featured artists: Unaiza Karim, Jameela Muncey, Sam Akram, Farwa Moledina, Arron Singh Gill, Mahawa Keita, Memunah Hussain, Anisa Fazal, Anam Zafar, Heba Chaudhry, Abla Ebbiary, Hannan Almasyabi, Yasmine Ahmed
Print and Matter is an
OOMK
project with support from Amal.
Workshops
There will be a range of free workshops on both Friday 5th and Saturday 6th May, join-in and get creative! All workshops will take place in Gallery 2.
Friday 5th May
6-8pm ︎︎︎ Typography Collage (drop-in workshop)
Friday 6th May, 6-8pm Join Ruth Yeates from Purple Ladder Studios for a drop-in collage workshop. Using printed off letterpress typography, make new characters using the letterforms and punctuation. Drop by and have a play and let your imagination take the wheel! This workshop coincides with Digbeth First Friday.
Saturday 6th May
1-2pm ︎︎︎ Negative Space Drawing

Join illustrator Aleesha Nandhra for a drawing workshop focussing on negative space. You'll be guided through the process of building up a drawing from life by using negative space as your starting point, before adding line and detail to your image.
2-4pm ︎︎︎ Make a Collage (drop-in workshop)

Whether you're a beginner or an experienced collager, drop-in for an informal opportunity to cut, paste and create, The session will be playful and creative and participants will be encouraged to explore Duplicate Publishing Fair for inspiration.
Led by artist and photographer Jaskirt Dhaliwal-Boora
Image credit: Ciara Leeming
3-4pm ︎︎︎ Make a Repeat Pattern (drop-in workshop)

Join artist Mahawa Keita from Print and Matter to learn different ways you can make a repeat pattern using handmade stamps, suitable for 5+.
------------


Past exhibitors include: 2B Or Not 2B, 99 Percent Lifestyle, Aleesha Nandhra, Amy Browne, Andrew Birney, BAAAD Press, BABS Collective, BCU Illustration, Big Family Press, Brum Zine Fest, COPY, Camberwell College of Arts, Carry The Fire, Cath Garvey, Coventry Biennial, Dalal & Di Principe, Exhausted Geographies, Fulton Verse, Grrrl Zine Fair, Hayley & Larissa, Independents United, Indestructible Energy, Jason Garrattley, Keep It Complex, Linda Stupart and Cathy Wade in Publishing, LUMIN, Lost generation, Mark Pawson, Merieme Mesfioui, OOMK, Pencil Boy Magazine, Rabbits Road Press, Rachel Littlewood, Recent Activity, Rope Press, Sassify Zine, Sofia Niazi, South London Review of Hand Dryers, TIC Zine, Tender Hands Press, The Holodeck, Tom Bryson, Tombstone Press, Triple One Five, Uhm! Zines, University of Northampton, Vessel Comic and William Powers